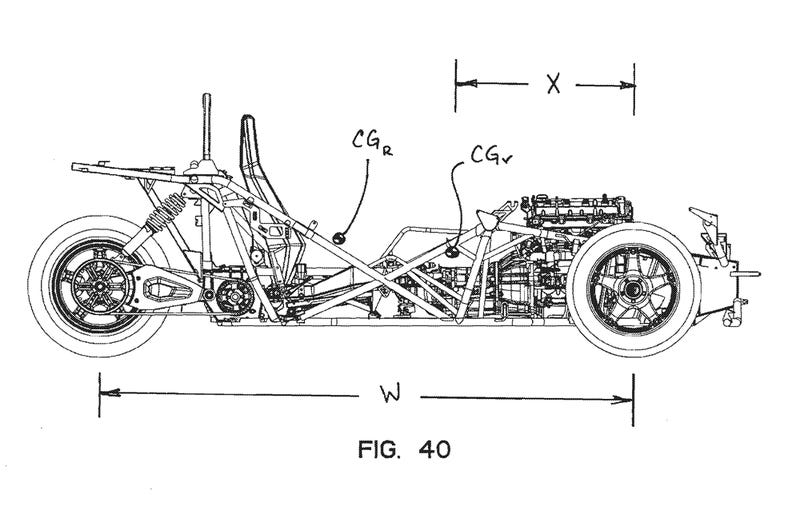 The Polaris Slingshot
2.4L Ecotec with Aisin 5-speed (think Pontiac Solstice/Saturn Sky), with three wheels of awesomeness.
Last year I was looking for a way to supplement some of my aircraft addiction with something comparable.  I had reached a point where I didn't have enough time to stay current on my certifications and the costs were getting to be too high.  Flying airplanes is like a good opiate, it makes you feel absolutely fantastic but it cost about $100-$200 an hour.  I was getting a new driver's license and I decided to take the written motorcycle license test while I was there for an additional $10.  I had come up with the conclusion that a motorcycle project would help me supplement my need for flying.  You see, airplanes and motorcycles both give you a strong sense of speed as you move through the atmosphere.  Crosswinds move you around and you feel the air as you cut through it.  Both also require a shift in gravity to turn as you bank to one side while apply additional thrust.  To a person's inner ear, piloting a small airplane and a motorcycle feel quite similar. 
I found a 1985 Suzuki Maxim XJ 650.  I cleaned it up and got it running sweet.  I rebuilt most of the motor spending a lot of time on the quad carbs while getting valves adjusted.  I added a Bonnie-styled seat along with a pair of white walls.  It worked well, looking like a late 70s British sports bike with a big four cylinder.  I resurrected the 74 horsepower and had a blast.  I rode the bike everywhere while covering myself in armor for the sake of my family.    I started riding it in February and rode for a full year, putting on 15,000 miles in rain and snow.  My wife enjoyed riding with me but wasn't too comfortable offering fate the chance to turn our three children into orphans.  I rode it mostly by myself to and from work enjoying the intake roar from four side draft carbs at 12,000 RPMs.  Then one weekend, I sold it.  Too many people had tried to murder me on the road and I no longer valued the experience over the loss of my children's father.
I also had my eye on a clean '63 Oldsmobile.  I paid cash with it from the bike and my 1970 Adventurer.  You see the Olds had air-conditioning  and about seven feet of steel between me and incoming traffic.
I love the Olds but I really miss driving through the air.  I miss feeling the temperature changes while ride along the canyons and I miss being connected to the road.  I need a vehicle that lets me feel the air but is just large enough to prevent a minor bump from a car killing me at 65MPH.
I think I found the next car/bike to enjoy.  Type in Polaris Slingshot and see what comes up.  Polaris is based on Minnesota and they manufacture, snowmobiles, ATVs, Ranger/RZR side by sides, along with Indian and Victory motorcycles.  A while ago the following member, Marc posted a pic at SpyderTalk.com, it looks like a trike mule for Polaris: http://www.spydertalk.com/forums/topic/1…
Recently, Polaris has applied for a number of design patents with the following CAD drawings: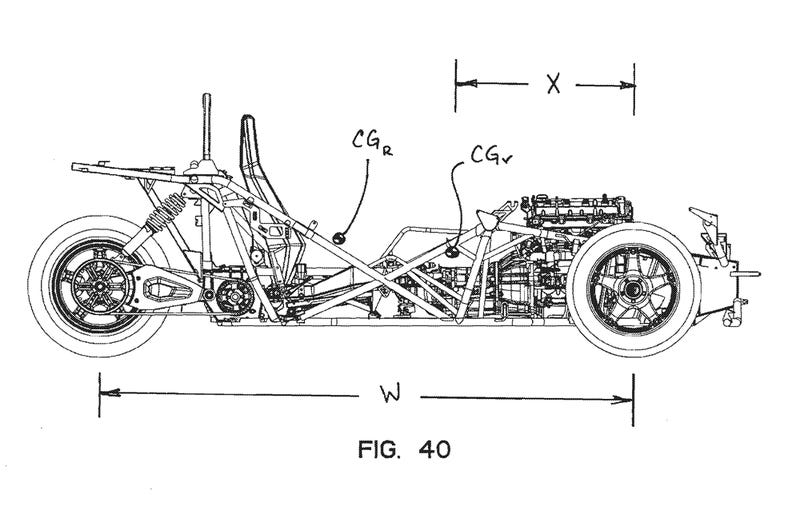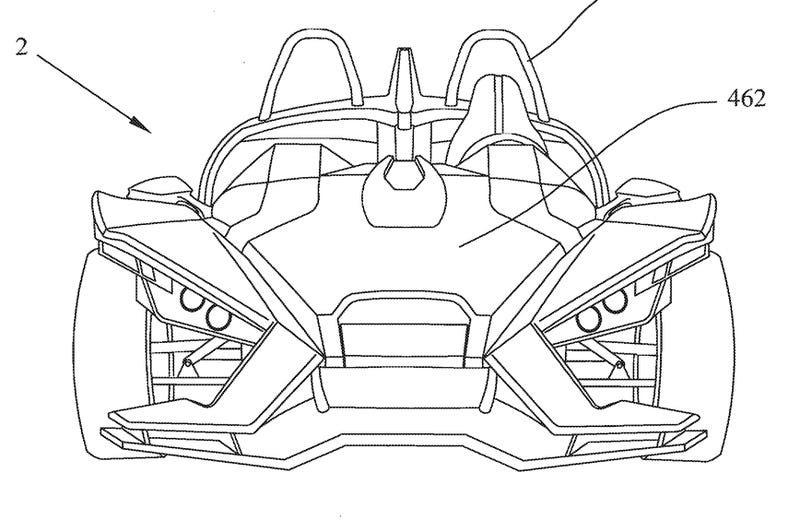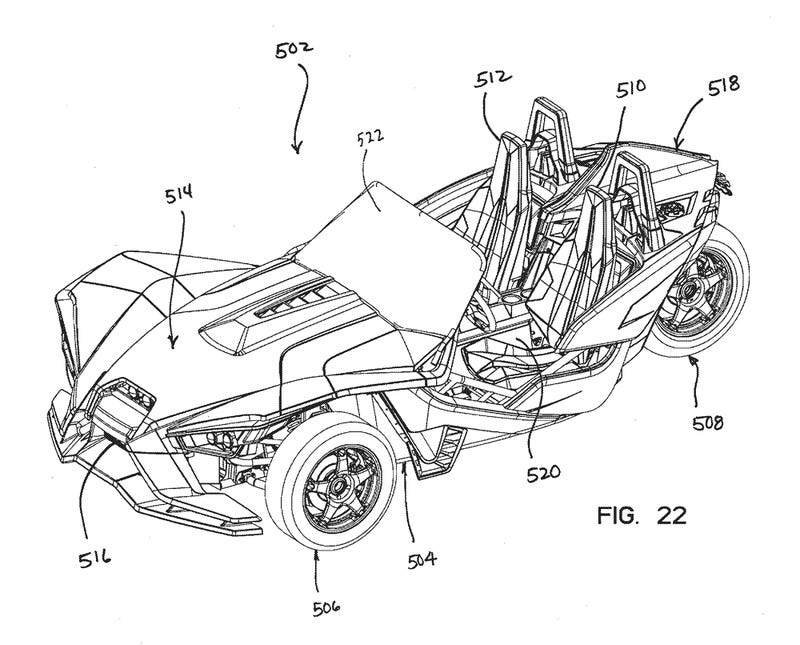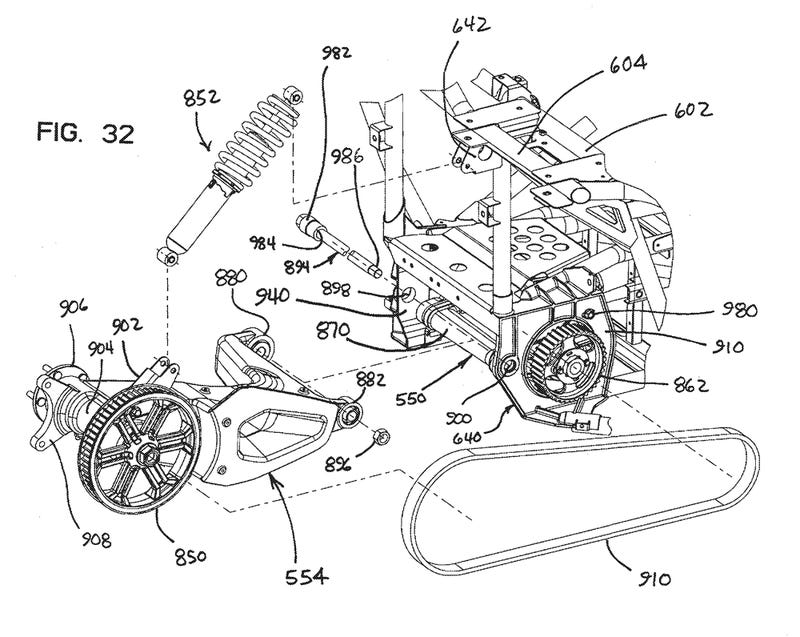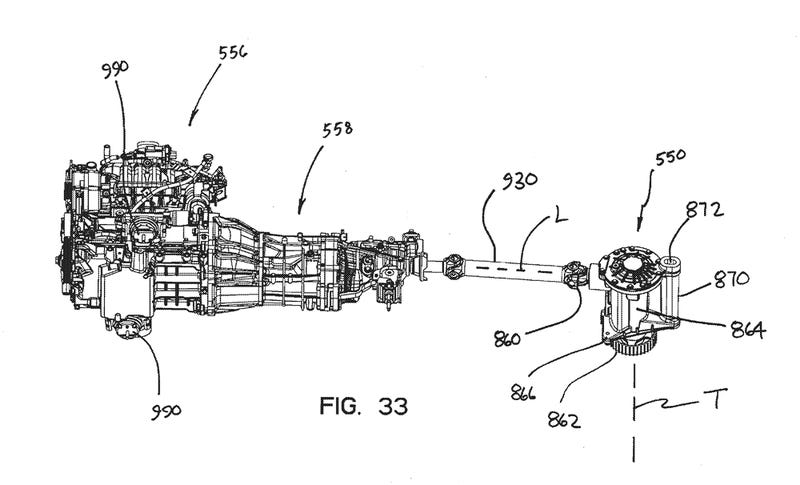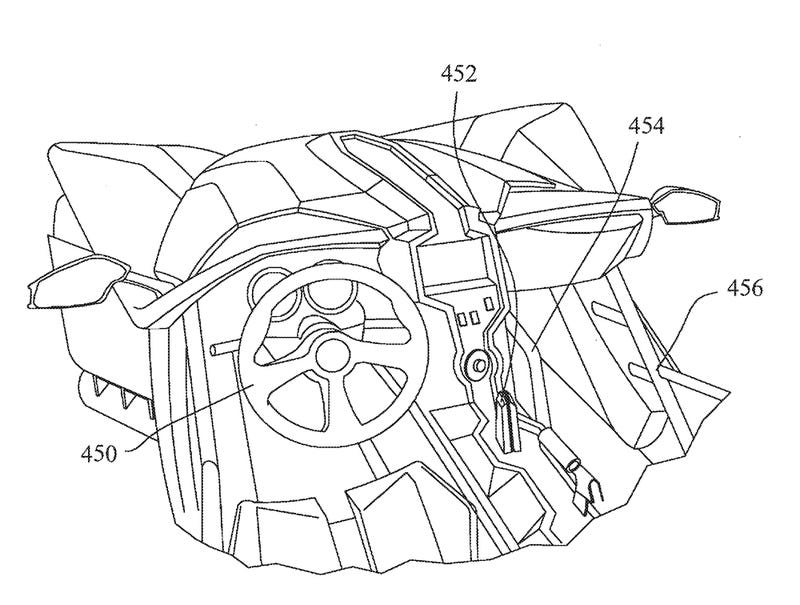 What we're looking at is a three-wheeled KTM X-Bow.  Except since this is a three-wheeled vehicle it will be road legal in the US a motorcycle.
Based on the drawings it looks like it's using a 2.4L Ecotech with a Aisin 5-speed, just like the Solstice/Sky.  The Ecotech 2.4L is a great motor 50mpg should be possible with such light weight vehicle.  The drive shaft connected with a drive belt looks quite interesting Aftermarket turbos/superchargers are already available if someone would like to see how much power they can try and get through one tire.  It looks like a windshield could be used for those states that don't require a motorcycle helmet.  If a stupid CanAm Spyder trike is 1,000 pounds this looks like it would be about 1100-1200 pounds with about 175-186 horsepower.
With what I'm reading ABS, ESC, and electric power steering will be options but not required.  Of course there are no air bags and anything else required by the feds to add weight and complexity.
The Slingshot looks like a good fit for me.  It offers open air driving with some protection from other vehicles.  It looks to be dang quick as well.  The Ecotech motors are fantastic while being easy to work on and find parts for.  I'm guessing low 4 second 0-60 times out of the box.  I love the side by side seating, it's a lot easy to talk to each other and your passenger doesn't have to look around your big head.  I would love to buy one, remove all the kung fu plastic cladding and hammer out a streamlined aluminum body.   It would be gorgeous.
My only concern is price, add an additional $4,000 to your standard side by side for the GM motor and heavier hardware and that's probably what it would cost to manufacture.   I think the price would work from $17-$25K.  When it's priced at more than a car it doesn't make sense.  What do you think?